Not Just Your Regular Bookkeepers

We have made customer service our habit. It's not something that we just strive for – we live by this principle every day.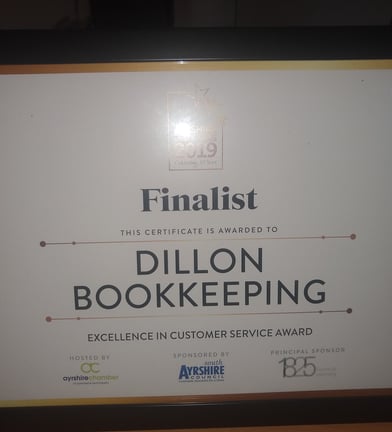 "Dillon Bookkeeping have been working with us since the inception of our business in 2012. We have found that Pamela provides an excellent service for us, understands the needs of the business and reacts immediately and efficiently to any requests that we put forward. We consider Pamela a key part of our practice, allowing us to focus on our core business activities knowing that many of financial day to day tasks are being dealt with. I would recommend Dillon Bookkeeping to anyone looking for this service.
Alistair Brand
Managing Director


Clarkston Services Ltd has used Dillon Bookkeeping since 2012, during that time Pamela has provided us with an excellent and professional service.
As well as doing our bookkeeping and Management accounts she has given valuable help in taking our business forward with insight and advice.
I regard Pamela as a valued member of our team and I would highly recommend Dillon Bookkeeping to anyone requiring accounting and payroll services.

Kenneth Ross, Managing Director
Clarkston Services Ltd

Pamela is a conscientious professional who has worked to support many SME's accounts teams within Scottish companies with nearly immediate success.
Pamela's ability to understand and work across all business sectors and market's makes her very valuable to companies, looking to grow and expand, have confidence in their numbers.
She is exceptionally easy to work with and the results of her efforts speak to her talent.

Colin A Grant
Time 2 Adapt Limited

Huge thanks to Pamela and the Dillon Bookkeeping team!
We have had so much more value from your insights in the last 7 months, your service is much more than simply bookkeeping support.
Fabulous service, more than happy to recommend you.

Thanks again for all your hard work.

Elaine MacDonald
Director




The team at Dillon bookkeeping have provided us with outstanding services for the past three years. Without Pamela and her team giving their personal touch our business would not run as successfully as it does now. Always there to go over and beyond with help and give great advice at anytime with no hesitations.
We are so grateful to have them as part of our business and have a wonderful relationship with the team. I would highly recommend Dillon bookkeeping to any business who is looking for hardworking and honest service.

Dr Dareen Mohamed Ali BDS MFDS RCSP(glasg)

I have been using Dillon Bookeeping for approx 10 years now. I have never encountered any problems or issues, always on hand to offer advice and ensure that we are operating as required. I have no reservations in recommending and encouraging other colleagues to use a book keeper and have recommended and referred a number of people over the years. A friendly and reliable service, with a personal touch ensures that we are always on track with our bookkeeping throughout the year.

Dr M A Samad BDS, MJDF.RCS(Eng), MFDS.RCPSG, PG.Cert (Sed), PG.Cert (Rest), PG.Cert (Orth)

P-BLOCK Ltd engaged Dillon Book-keeping in Q4 2019 based on a recommendation from a professional contact. Since our initial meeting, I have come to rely on Pamela and her team for an increasing range of support needs including:
• Reconciling accounts
• Preparation of VAT returns
• Payroll services
• Preparation and chase-up of withheld tax claims from EU member state public authorities
• Pension auto-enrolment
• Multi-currency account management
Whenever I come across a new business dilemma, Pamela is one of the very first people that I turn to and she has very quickly become a trusted counsel on business and finance matters. I have no hesitation in recommending the services of Dillon Bookkeeping who provide an excellent service at reasonable costs.
Keith Brady
CEO, P-BLOCK Ltd

'We have been using Dillon Bookkeeping since we started trading in January 2020 and their assistance to get us up and running has been invaluable. We have great confidence in Pamela and her team which allows us to run the other parts of our business knowing that all the financial elements are taken care of.

Pamela and her team are always on hand whenever we need to ask a question and they have assisted in the growth our company to what it is today. We would recommend Dillon Bookkeeping to anyone who needed their services as we wouldn't be where we are today without their help'
Martyn Campbell